CTI Clean Energy Financing Award for Full Advantage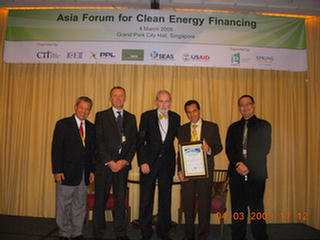 We are extremely pleased to announce that Full Advantage, in partnership with Silverdale, was awarded the Clean Technology Initiative (CTI) Clean Energy Financing Award. The award was given in recognition for winning the First Prize in the Business Plan competition organized for clean energy projects in South-East Asia.
The Business Plan submitted by Full Advantage and Silverdale emerged as the best among 60 projects submitted from all over South-East Asia. Out of the 60 submissions, 11 finalists were invited to the Asia Forum for Clean Energy Financing in Singapore on March 4, 2009, to make presentations of their projects in front of a distinguished panel of judges and more than 80 investors and financiers. Alan Dale Gonzales, who presented the Business Plan during the event, bested 10 other presenters to emerge as the winner of the Competition. Alan Dale Gonzales is the Executive Director of Full Advantage. Alan Dale was supported during the event by Dr. Prasan Sirinnont, Managing Director of Silverdale and Mr. Vazzan Tirangkura, Director of Full Advantage.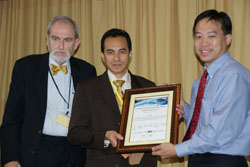 The project presented in the Business Plan was SPRING-1, an integrated biogas-to-energy and biocompost facility using wastes from a sugar mill and a bioethanol plant in Central Thailand. The project consists of a biomethanation component with a 10 MWe electrical generating capacity and a biocompost facility with a production capacity of 90,000 tonnes of organic fertilizer per year. The project will be developed as a CDM activity and is expected to mitigate Greenhouse Gas (GHG) emissions of more than 300,000 tonnes of CO2 equivalent per year.
The citation in the plaque given in recognition of this achievement states that SPRING-1 "was deemed to be one of the most promising clean energy investment opportunities in the ASEAN region."
The Business Plan Competition was organized by the following institutions: Clean Technology Initiative, International Center for Environmental Technology Transfer, PPL International, ReEx Capital Asia, Sustainable Energy Association of Singapore and US Agency for International Development.